Well, I did get myself out in the rain and over to Russell Sage College in Troy, where Blogsister (and socially responsible corporate entrepreneur/founder of
The Body Shop
)
Anita Roddick
was signing her
new book
(as well as her other books) at the college's "Social Responsibility Fair." She is
in residence there this week
as a Woodrow Wilson Fellow. (I signed a few petitions and picked up some info about the local "Women Against War" group that I've been trying to catch up with.
Anita Roddick is as impressive in person as she is in her tireless work on behalf of human rights, fair trade, the environment, peace, and any number of issues that specifically affect women. Luckily, I arrived early enough to catch her before the throngs beseiged her for photo ops and further discussions of questions that she stirred in her presentation earlier in the day. She welcomed me as a Blogsister, and I commandeered a passerby to take this photo.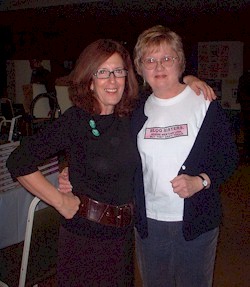 Next to Anita, I look like something that just came in from the rain (which is exactly what I was.) I think I need to trek over to my neighborhood Body Shop and see what she's got there to help spruce me up. I did wear my Blogsister's t-shirt, though. My thanks to Anita's colleague,
Blogsister Brooks Shelby Biggs
, whom I finally thought to email in hopes that she would mention to Anita that I was going to show up -- which she was happy to do.