From
All Facts and Opinions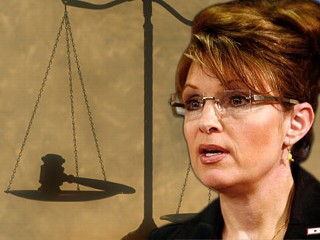 Brian Ross of ABC News reports that investigator Stephen Branchflower determined that while Sarah and Todd Palin's desire to have their former brother-in-law fired was not the only reason for Walt Monegan's sacking, it was part of the justification for it, and that made the move unethical and illegal.
I have read the 263-page Branchflower report from start to finish. These are its major findings:
Finding Number One:
For the reasons explained in section IV of this report, I find that Governor Sarah Palin abused her power by violating Alaska Statute 39.52.110(a) of the Alaska Executive Branch Ethics Act. Alaska Statute 39.52.110(a) provides
"The legislature reaffirms that each public officer holds office as a public trust, and any effort to benefit a personal or financial interest through official action is a violation of that trust."
Finding Number Two:
I find that, although Walt Monegan's refusal to fire Trooper Michael Wooten was not the sole reason he was fired by Governor Sarah Palin, it was likely a contributing factor to his termination as Commissioner of Public Safety. In spite of that, Governor Palin's firing of Commissioner Monegan was a proper and lawful exercise of her constitutional and statutory authority to hire and fire executive branch department heads.
Finding Number Three:
Harbor Adjustment Service of Anchorage, and its owner Ms. Murleen Wilkes, handled Trooper Michael Wooten's workers' compensation claim properly and in the normal course of business like any other claim processed by Harbor Adjustment Service and Ms. Wilkes. Further, Trooper Wooten received all the workers' compensation benefits to which he was entitled.
Finding Number Four:
The Attorney General's office has failed to substantially comply with my August 6, 2008, written request to Governor Sarah Palin for information about the case in the form of emails.
More from
Bloomberg
:
"Governor Palin knowingly permitted a situation to continue where impermissible pressure was placed on several subordinates in order to advance a personal agenda, to wit: To get Trooper Michael Wooten fired,'' according to the report issued today in Anchorage.

Even so, the report said Palin's firing in July of former state Public Safety Commissioner Walt Monegan, who had refused to fire Wooten, was a "proper and lawful exercise'' of her wide authority to fire department heads for any reason. Monegan contends the governor dismissed him for refusing to fire Wooten, who was involved in a divorce and custody battle with Palin's sister.

Violation of the ethics act could result in sanctions, such as a fine, by a state ethics board, lawmakers said.

Members of the Legislative Council voted 12-0 to release the report even though there wasn't agreement on the findings, lawmakers said.

"I don't think there is a consensus on the conclusions,'' said Representative Bill Stoltze.