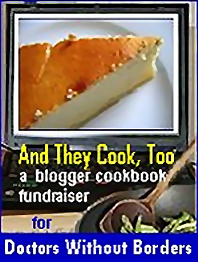 And They Cook, Too

A Blogger Cookbook Fundraiser for
Doctors Without Borders

Compiled and edited by Ginger Mayerson and Kathy Flake

Graphics by Tild~

Illustrations by Carol Colin and Robin Riggs

From the introduction:


Last year on October 8 an earthquake, measuring 7.6 on the Richter scale, hit Kashmir, the northern part of Pakistan. Being a native Californian, I know that's no small cheese. Unfortunately, by October 8, 2005, I was tapped out from Katrina giving and could not give to my favorite charity, Doctors Without Borders, also known as Les Médecins Sans Frontières (MSF). There was no doubt in my mind that MSF would be on the spot, doctoring in Kashmir, then and even now, and around the world wherever they are needed, as usual.

And so, partly out of guilt, but mostly out of admiration, the plan for this cookbook fundraiser was born. Now, I don't cook very much and my basic culinary philosophy is "Shake it out of the box and eat it." However, I very much admire people who make an art of cooking and even make it look fun. I also read a lot of blogs, all kinds of blogs from all over the world: political, art, culture, whatever, and I noticed many of these bloggers posting recipes. Sometimes I'd print them out and put them in my very neatly organized, but seldom consulted three-ring Recipes binder. Every now and then I'd think how nice it would be to have all those online recipes in a book format... And an idea began to take shape..

Ads for this cookbook fundraiser are starting to pop up on blogs all over the reality-based portion of the blogosphere. Remember: this is a collection of recipes from PROGRESSIVE, LIBERAL bloggers!
See the
Table of Contents and more
...
...which includes the list of bloggers who contributed recipes and/or their time and effort in assembling this project.
As you will see, there are some pretty big names on that list:
Body and Soul
,
Majikthise
,
Mad Kane
,
The News Blog
,
Sadly, No!
,
Dohiyi Mir
,
Elayne Riggs
,
Agitprop
,
Pam's House Blend
, and the list goes on...
Please support the worthwhile cause of
Doctors Without Borders
by buying a copy of
"And They Cook, Too" today, won't you?
Thank you!

This entry also appears
here
.