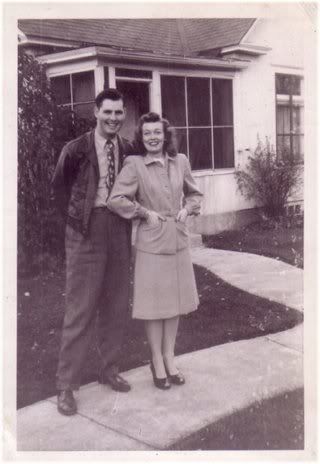 My parents married in June of 1946. My dad [Gunnar] was 21. My mom [Grace] was 23. This picture was taken in front of the house on the corner of 36th & Bloomington Avenue in south Minneapolis, where my dad grew up.
His parents
were August and Matilda. Longtime readers of this blog will know that Matilda was
the original Tild
.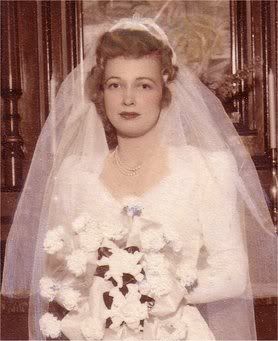 Grace and Gunnar were married at St. Petri Lutheran Church in Nielsville, Minnesota, my mom's home town. Nielsville is located about 18 miles south of Crookston, up in the NW corner of the state, that area aka the Red River Valley. This photo was hand-tinted by Grace's youngest brother, my Uncle Helmer.
Isn't she beautiful?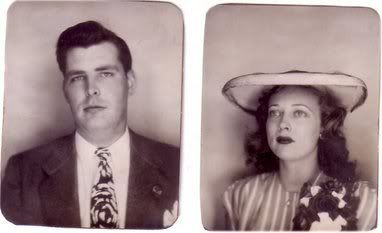 Here we have the young marrieds doing their utmost to look suave, sophisticated and worldly during a trip to Washington DC in 1947. No, don't smile. Don't show your teeth. We are very serious and very grown up adults here! Not to mention sharp dressers.
Smoooth.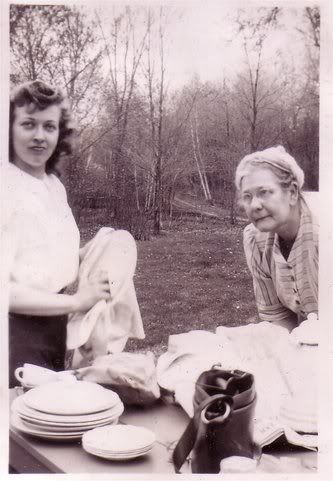 This is one of my alltime favorite pictures of my mom. I think it was taken in 1947, or maybe 1948. One day Grace and Gunnar attended some kind of outdoor picnic with Grandma Tild and Grandpa August, and as you can see, Grace and Grandma Tild are washing up the dishes after lunch. Grandma Tild looks pretty harmless in this photo, but in actuality she was a domineering, fire-breathing old battle ax who never missed an opportunity to make my mom's life the proverbial Living Hell. Now look at Grace. Check out the defiant gaze, and especially the jutting lower lip. My mom was so pissed off at her horrible fiendish mother in law that day, you can almost see steam coming out of Grace's ears.
Go Mom! Priceless.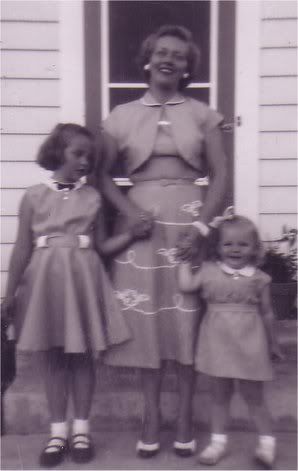 It's 1954 and my dad took this picture of his family in front of our house on 54th and James in south Minneapolis. My sister Diane is 6, and I am 2. I have absolutely no memory of ever being shorter than my mother, but apparently I was for a little while, and this photo proves it.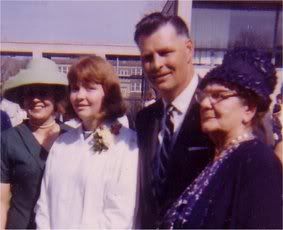 Today I am a Lutheran. Or something. This photo was taken at Mt. Olivet on my confirmation day in 1965, and it's the only time I have ever seen my mom, me, my dad
and
Grandma Tild all together in one photo. Also, please note that at age 13 I am taller than my mother, which in my world always seemed to be the natural order of things.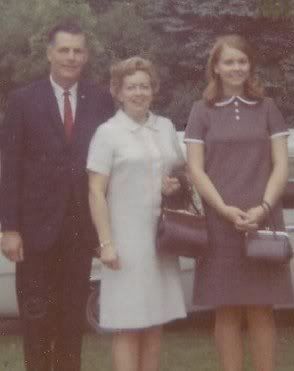 I didn't stop growing until I reached 5'11", as you can see in this photo of Gunnar, Grace and me taken around the time my sister got married in 1968. Both of us girls turned out to be much taller than our mother, and I believe that had a measurable effect on our personalities.
Grace was a 5'6", bubbly, strawberry blonde Betty Grable look-alike. She was warm and funny and talked a blue streak and drew people to her like moths to flame; like bees to honey; like whatever to whatever [insert favorite simile of your choice here]. I felt like King Kong standing next to her, and whenever possible preferred to step back into the shadows and let my mother shine. I don't remember ever begrudging her that. It's possible I did at the time, but I don't remember it now.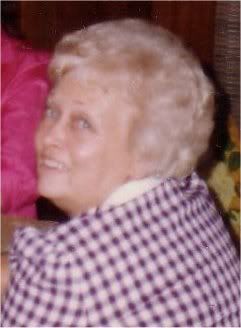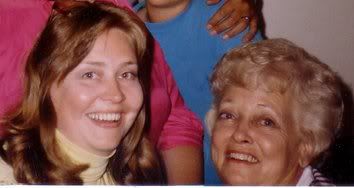 Mom had been a widow for 5 years when these photos were taken in 1984. She was 61 years old. My dad, Gunnar, died in 1979 at the age of 54. He died of congestive heart failure, complicated by scar tissue on his aorta and an enlarged 'athlete's heart', both consequences of having rheumatic fever when he was a child.
Grace continued to be out and about a good deal of the time, as she and Dad had always been, with a social life I'd have killed for.
She did volunteer work at the Shriners' Hospital; went out to dinner with her Eastern Star chapter, and her garden club, and her 500 club, and "the St. Mary's gang", all the gals she'd roomed with at a boarding house downtown near the Basilica during WWII, when they were all flighty young singles working at Honeywell, assembling steering controls for bombers by day, and dancing the night away every night. She always said that in those days she wore out a pair of shoes a week, from all the dancing.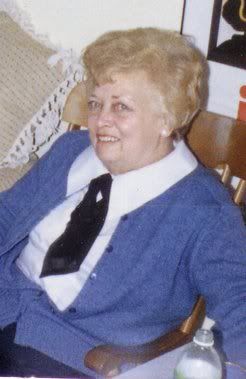 This is Grace on Christmas Eve 1987. She looks tired, as well she might, considering she'd had a mastectomy three months before, and was undergoing a 6-month course of chemotherapy at this time. Her doctors were fairly confident they'd gotten all the cancer, so they said the chemo was really just a precaution, to make sure the cancer hadn't metastasized into the lymph nodes. Grace was tolerating the chemo well, altho the steroids made her face look kind of puffy and she also said the steroids gave her manic bursts of energy when she couldn't sit still or stop talking. Everybody who knew her wondered how she could tell the difference.
This turned out to be the last photo ever taken of my mother.
Less than two months later, on the morning of February 12, 1988, Grace called my sister and brother in law at 4:45 AM. She'd been out dancing until past 1 AM, then had come home and settled into bed but suddenly felt "kind of funny". It was strange, she said; like she couldn't catch her breath. My brother in law told her to hang up and call 911 right away. Grace lived only a few blocks away from Fairview Southdale Hospital in Edina, and the paramedics could reach her within minutes if necessary. She agreed to call 911, and hung up. My sister and her husband waited for a minute or two, then called 911 to confirm that Grace had called. Yes, the dispatcher said, and the paramedics were already on their way.
BIL then jumped in the car and headed for Grace's house, about 15 miles away. When he got there he saw a policeman standing at the front door, which was all splintered and off its hinges. The paramedics had arrived within 3 minutes of receiving Grace's call, yet she was already unable to get to the door, so the paramedics had to use a crowbar to break the door down. The policeman said that Grace had had a heart attack; she was alive but it was "very serious". The EMTs had taken her to nearby Fairview Southdale, all the while frantically working to revive her.
My sister called at about 5:30 AM and told us what was happening. We then picked her up and drove to the hospital together. I was seven months pregnant with my first child at the time.
We arrived at the hospital within 20 minutes of getting the call. My BIL George met us at the entrance and said: "I don't know how to say this, but Grace has passed away."
The cause of death was found to be pulmonary embolism: a large blood clot had formed somewhere in her lower extremities and had travelled upwards through her system to ultimately become lodged in a spot near the juncture of her heart and lungs. Death came very quickly; within minutes.
Grace was 64 years old.
It's a long time ago now; 17 years; so the pain has had time to get dull and familiar and I don't feel it as sharply as I did then. Not a day goes by that I don't miss her and wish she could see my kids as they're growing up. Well, maybe she is seeing the kids somehow; I hope so. I guess what I want is
to be able to see her seeing the kids
.
And these days I've started thinking of how she died as being rather a good way to go, since we're all gonna go sometime, some way. Think about it: Grace lived her life fully and actively and joyously right up to the very last moment. No drawn out withering away for her. No watching her slowly become unrecognizable as disease consumed her.
She went to a party on that last night. She went out dancing til past 1 in the morning. She went dancing.