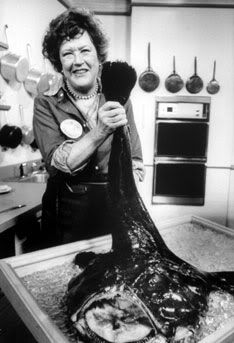 "Life is the proper binge."
- - Julia Child
Julia Child died today
at the age of nearly 92. I loved watching her shows; loved her calm and her warmth and her funniness and her ridiculous voice [Eleanor Roosevelt meets Margaret Dumont.] Jeanne at Body & Soul has
a beautiful remembrance
involving her mom and inspiration from Julia Child.
From watching Julia, a lot of us got the courage to fuck up, because Julia could, and often did fuck up, especially on camera, and she just breezed through it, whatever the fuck-up was, and went on to the next thing with nary a twinge or stumble of embarrassment or shame. I just adored her.
Julia Child was always one of the examples my mother pointed out to me of a successful, well-known, and very tall woman. When I was 13 and had already reached my full adult height of 5'11", I often felt like I towered over all the other kids my age. There was a good reason for that: for a couple years there I actually
did
tower over every other kid my age. As you might imagine, this could be quite the depression-inducer for an adolescent. When Mom saw me slumping and moping because I obviously felt like Hideous Giant Girl, she would say these things: [always in this order, too:]
'You know, Eleanor Roosevelt was six feet tall."
"Jackie Kennedy wears size ten shoes."
"Paula Prentiss is about 5'11" too, just like you."
"And Julia Child is 6-2!"
I know I was sarcastic and terrible to you way back then, but I did appreciate what you were trying to do, Mom. Thanks. I love you. And I love you too Miss Julia, you wonderful
non-petite chou. Au revoir.


This post also appears over
here
.