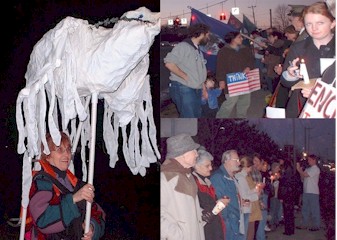 I took these photos at a candlelight peace vigil that in which I participated tonight. It took place at the busiest intersection in the Albany area, less than 3 miles from where I live, and it was too close for me to be comfortable if I didn't go over there.
I sent the photos I took to moveon.org.
I stood between an elderly Quaker woman whose spiritual beliefs bring her to every peace rally in the area and a woman about my age who is a member of the Women For Peace effort. Next to her stood a distinguished sexagenarian in his old military uniform waving a large flag with the image of planet Earth from space. We lined up along the raised curb -- toddlers, students, dedicated activists, people like me who talk the talk and reached that point of discomfort where we felt we had to do more.
We were all handed a flyer: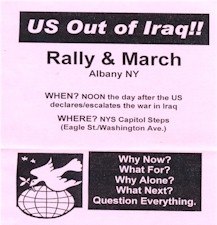 War looms too close for comfort.